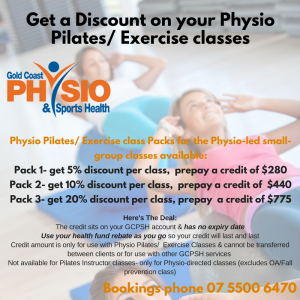 Health Fund Rebates can be used as you go & there are no use-by dates so this is a fantastic opportunity for you to really feel the benefits of a regular Exercise / Pilates Class that is focused on your individual body aches and pain, weaknesses, and poor postures.   Consider the benefits today!
Bookings are essential for all pilates/exercise sessions & advance bookings are advised to maintain your place in a class.
Ph (07) 5500 6470 to book.
Cancellation policy applies to all services at GCPSH.