Our Studio breaks your training down to a science, so you don't have to.
Whether you are riding a virtual course or performing a structured wattage workout with your coach or ours, your session will be customised to your exact fitness level, pushing you precisely the right amount to rapidly improve your fitness, or help you achieve that training and racing goal.
Gold Coast's first indoor cycling studio, located at 2/118 Brisbane Road Labrador within Gold Coast Physio & Sports Health provides athletes and coaches with a unique facility where training goals can be precisely measured and achieved using the latest in Indoor Trainer Technology.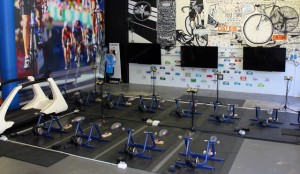 Gold Coast Cycle & Triathlon studio provides a boutique, motivating environment, and is available for group or individual bookings. Coaches and athletes are able to take advantage of this venue to hold specific training sessions based on their athlete training and racing goals. Our studio has WaHoo Kickr Trainers and Computrainers set up so all you do is bring your bike!
The Studio will also keep you out of the weather elements and away from traffic so you can train safely and smartly!

The Wahoo Kickr Trainer and Computrainers are the most impressive indoor turbo trainers available:
1. These trainers allow you to train based on Power output. You or your Coach sets your desired power output and the trainers will automatically adjust the resistance so your ride stays consistent and calibrated. Power is ultimately what gets you down the road on your bike, so training based on Power output will bring your indoor training to a new level.
2. The high inertia fly-wheel of the Kickr is engineered to replicate the feel of riding on the road. If the Wahoo Kickr's are good enough to be used by Pro Cycling Team Sky Racing, then we figure they are a great option for us!
3. We have linked all the trainers in the studio to 2 mega Tv's mounted to the wall in front of you, so you will see Power (Watts), Heart Rate, Time, and Cadence all displayed directly in front of you for easy interpretation and monitoring as you ride. Ride as a group and you will all appear together- talk about Mega Motivation!
4. Training specifics you view on screen while cycling zones with nice Color Displays and easy to read data while you train. Displayed on our huge wall mounted screens with some great tunes thrown in to help you drown out some pain, you will find new pleasure in suffering during Cycle training.
5. For specificity of training on a particular course, the trainers are able to be paired with some amazing software that will provide a course profile for you to ride. You want to ride a stage of the Tour de France, we can provide the profile of that stage for you to train on. You want to train on the Hawaii Ironman Bike Course for 10weeks leading into the race, we can provide the course power profile to maximise your familiarisation with the course. Talk about training specificity!
6. And if you are an athlete that likes the 1%-ers, you can utilise the Turbo Cycle Studio and our new Exercise Testing Lab to customise your training as precisely as our elite Aussie Triathletes and Cyclists do. Just like our Aussie Olympic Athletes have access to regular Exercise Testing that provides them with Training Zones based on Power, you too can now access this service and then use these training zones during your Turbo Studio Training session.
More info about our Exercise Testing here
Training Options
– If you normally train in a squad or group, your Coach will be able to book a regular time-slot for you to train as a squad.
– We run weekly instructed sessions managed by our Professional Studio staff led by ex-Pro Cyclist Michaela Fischer and Pro Triathlete Adam Gordon. Bookings will be essential for these sessions due to limited trainers.
CHECK OUR CYCLE CLASS TIMETABLE & COST HERE

– You are able to attend and train on your own (some conditions do apply to this) or as a 1-on-1 session under the direction of a Qualified Exercise Physiologist
–  For further enquiries, or squad bookings, phone Albie Firley on 0408 358 335 or phone the clinic (07) 5500 6470 to book your place in the class
What To know About Your Cycle Session READ HERE