Exercise Testing Gold Coast – VO2max & Power Profile Tests
Why do an Exercise Test (VO2max) with Gas Analysis?
Exercise Testing at Gold Coast Physio & Sports Health is available to Competitive and Amateur Athletes for both Cycle and Run disciplines.
VO2 Max and anaerobic threshold testing provides a valuable tool for both coaches and athletes to add specificity to their training programs and racing. When an athlete's individual physiology is understood correctly it allows for accurate determination and implementation of intensity levels for training, competition and recovery.
An Exercise Test will help you:
Improve race performance (Triathlon, Cycling or Running or any sports involving these disciplines eg. Mountain Biking, Track Cycling, Multisport events)
Target your most effective heart rate zones to ensure you are training smart and effectively
Improve endurance, stamina & efficiency
Know your VO2max
Know your thresholds
Improve fuel (food) planning pre/during & post events
Improve recovery time
Monitor training adaptations – see improvements and progression in your training and related performance
It is ideal to measure your training thresholds at particular times in the year. This varies from sport to sport, goals and training periodisation. It is always advisable to get baseline measurements and testing prior to beginning any new program. This is vital to optimise training efficiency and performance outcomes.
Exercise Testing at GCPSH is conducted by our Exercise Physiologists which means Health Fund Rebates may be available if you have Extra's cover. Find out if your health fund participates here and you may be able to claim your rebate in clinic at the time of your appointments.
What is a Maximal (VO2Max) Exercise Test?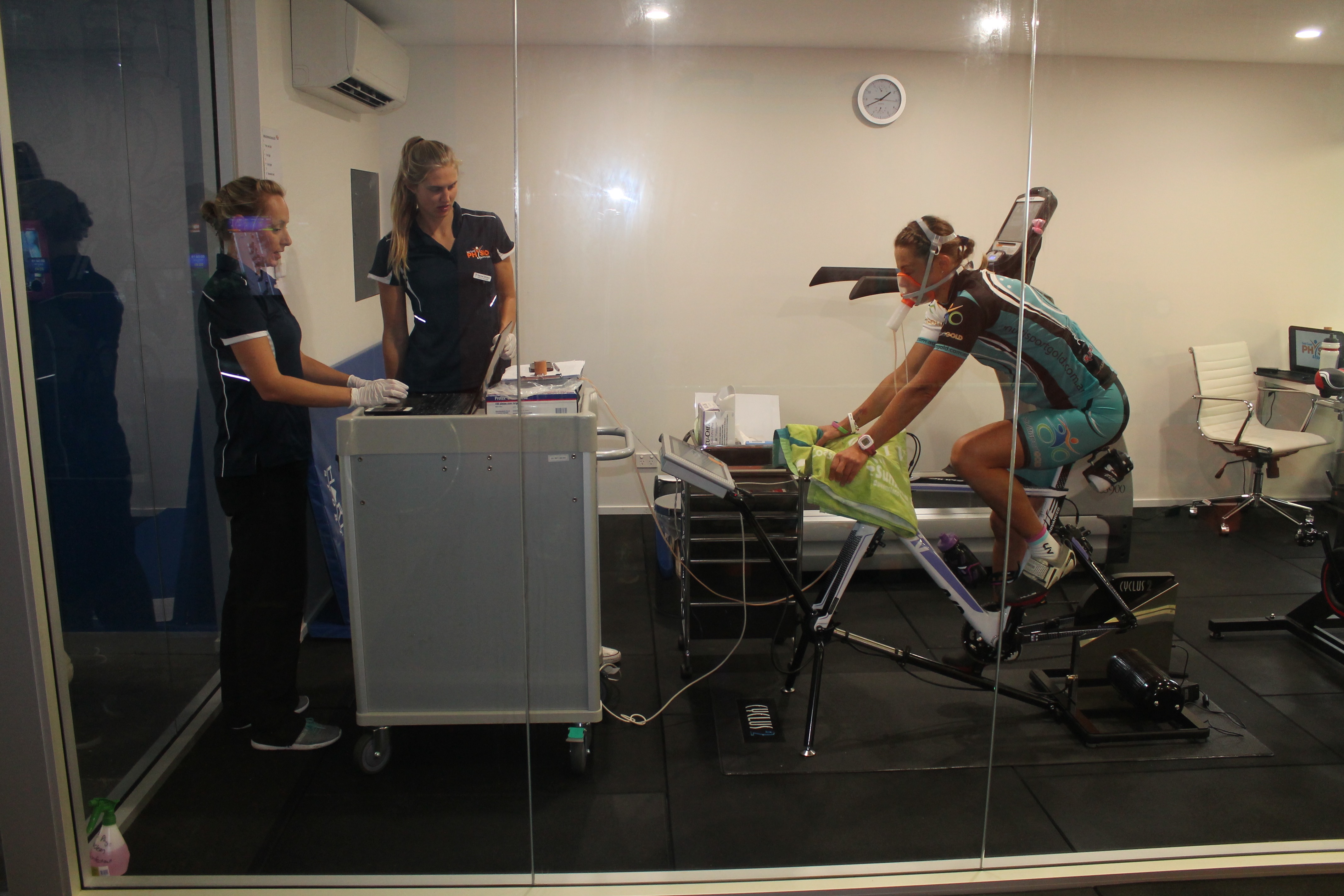 A Maximal Exercise Test (VO2 Max) test involves a graded exercise test on a treadmill or on your bike. The test begins at a very light intensity and gets slightly harder each minute until maximum exertion.
At Gold Coast Physio & Sports Health we use a Cyclus2 to perform your Cycle Exercise Testing. The Cyclus2 allows you to fit your own bike to the test unit meaning you are tested in the exact riding position that you Race and Train. GCPSH is the only private Exercise Testing lab in Australia currently using the Cyclus2.
Our Run Exercise Testing is performed on a True Treadmill.  We use the Aircheck Gas Analysis system.
For a Maximal Exercise Test, the athlete wears a mask and we measure the volume of air expired along with the percentages of oxygen and carbon dioxide in the expired air. Blood Lactates are taken during the test to assist with interpretation of results.
The VO2max test with lactates provides a range of data that can be of benefit to cyclists, runners, triathletes or anyone looking to identify baseline measures.
The test results include:
•    V02max (ml/min) and  (ml/kg/min)
•    Individualised Heart Rate or Power (Bike) or Running Speed Training Zones
•    Anaerobic Threshold
•    Maximal Heart Rate
•    Recovery Heart Rate
•    Relative maximal aerobic power
This data can be used for establishing training zones, designing intervals, talent identification as well as monitoring and evaluation of specific training interventions.
More Info
Specific Information about Maximal (VO2max) Exercise Testing– read more here
Exercise Test Packages Available – options here
Power Profile Testing – read more here
Check out our video of how a typical V02Max Bike test looks…