What is Exercise Physiology and How can an Exercise Physiologist or Exercise & Sports Scientist Help you?
Exercise physiologists specialise in the field of health and fitness. The Exercise Physiologists of Gold Coast Physio & Sports Health excel in providing exercise interventions and advice in areas ranging from chronic conditions, such as diabetes and obesity, to improving sporting performance in semi-elite/elite athletes.
An exercise physiologist also provides functional return to work programs, perform fitness assessments, generate individualised exercise programs to meet the needs of the clients goals and can assist with weight loss and management by collaborating with dietitians to develop the most suitable and individualised lifestyle/weight loss program for each client.
Our Exercise Physiologists have experience in creating exercise programs for the gym, fitness centres, home based exercise programs, swimming pools, and programs aimed at improving functional capacity.
GCPSH Exercise Physiologists also perform our Exercise Testing, including VO2max testing and providing training zones and recommendations for making your training programs specific to your goals. Exercise Testing at GCPSH is conducted by our Exercise Physiologists which means Health Fund Rebates may be available if you have Extra's cover for Exercise Physiology (see further information below).
Exercise Physiology appointments may be available under Medicare and the Chronic Disease Management (CDM) plan or Enhanced Primary Care (EPC) program. If you have a noted ailment or chronic condition, speak to your GP about your entitlement to Medicare-paid visits (please note: to ensure quality of care and appropriate time frames to help you achieve your goals, GCPSH does NOT bulk bill these visits but the fee difference is minimal. Feel free to enquire about your out-of-pocket amount by phoning us on 07 5500 6470). A referral is required from your GP to claim the Medicare fee which can be refunded to you directly in clinic at the time of your appointment.
Find out more information about how an Exercise Physiologist can help you here
Why do an Exercise Test?
Exercise Testing at Gold Coast Physio & Sports Health is available to Competitive and Amateur Athletes for both Cycle and Run disciplines.
An Exercise Test will help you:
Improve race performance (Triathlon, Cycling or Running)
Target your most effective heart rate zones to ensure you are training smart and effectively
Improve endurance, stamina & efficiency
Know your VO2max
Know your thresholds
Improve fuel planning pre/during & post events
Improve recovery time
See improvements and progression in your training
Read more Specific Information about VO2Max Exercise Testing here
Health Fund Rebates
Health Fund Rebates are available for many Private Health Funds under an Exercise Physiology consultation (27 of 35 Health Funds participate- find out if yours does here) and can often be processed In-Clinic at the time of your test. For more information on rebates for Exercise Physiology, please contact your Health Fund directly.
Your health fund may also allow you to claim a certain amount annually for Health Preventative Measures which may include fitness/weight loss/health programs. You may need to complete a form signed by your physiotherapist or doctor that are available from you Health Fund. Contact you Health Fund for more information.
At Gold Coast Physio & Sports Health, your Exercise Test is conducted by an Accredited Exercise Physiologist and the Test can be broken into a few appointments, therefore Health Fund Rebates will usually be available for this if you have Allied Health Private/Extra's Health Cover. Again, contact you Health Fund for more information.
PowerBreathe for Sports Performance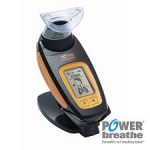 The easiest 5% performance improvement you will get!
POWERbreathe training uses the principles of resistance training to 'overload' the inspiratory muscle, improving their strength, power and endurance in less than four weeks. Read more